Whether you are looking to commission a painting or just have a nice photo for the home screen on your phone, here are a few tips to ensure your photos are stunning! (And you don't need any crazy equipment!)
LETS TALK LIGHTING
Lighting is crucial to getting a great photograph of your pet- ESPECIALLY if you are looking to commission a painting. This was the first time that I have tested this out, side by side, and the results are shocking!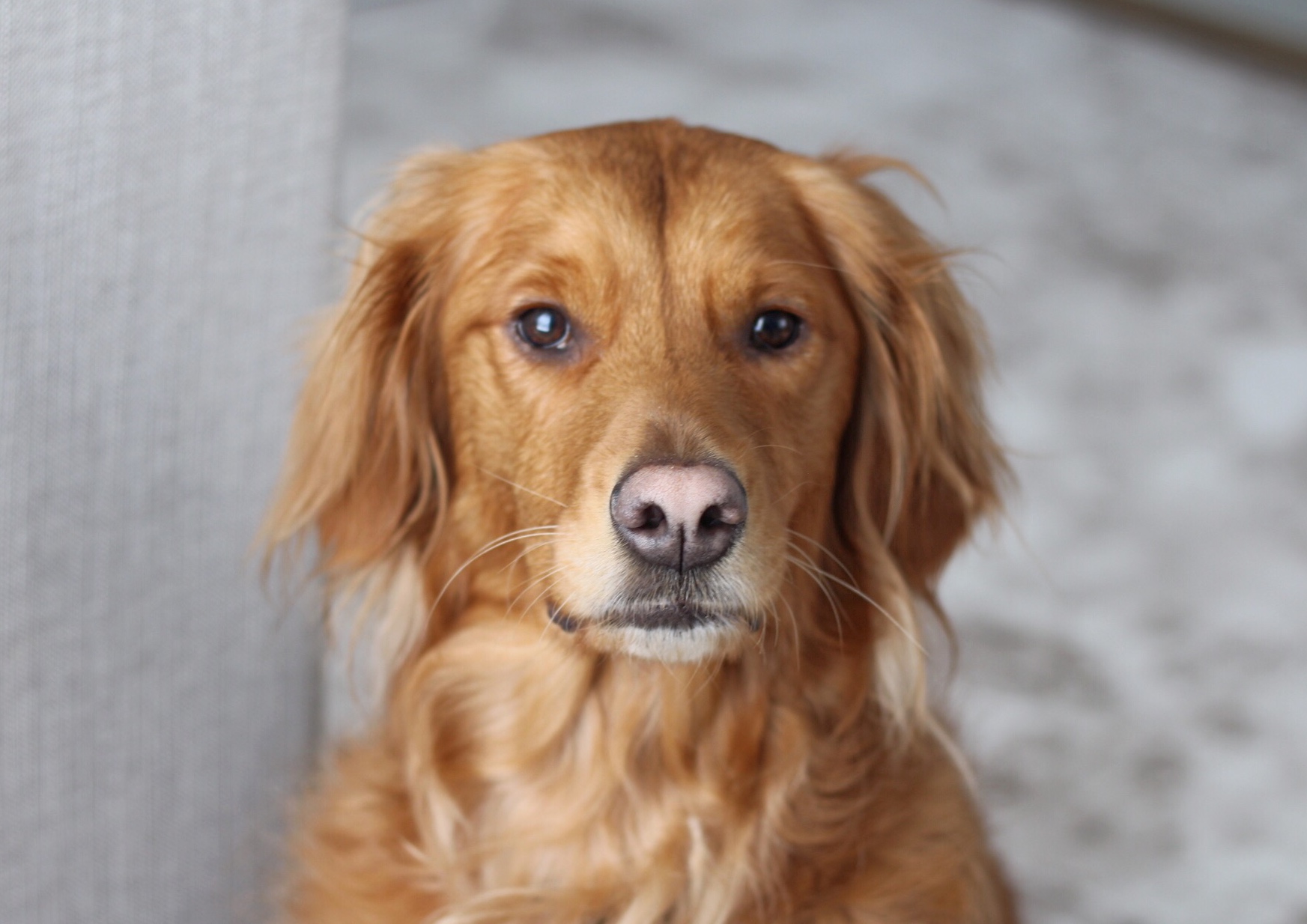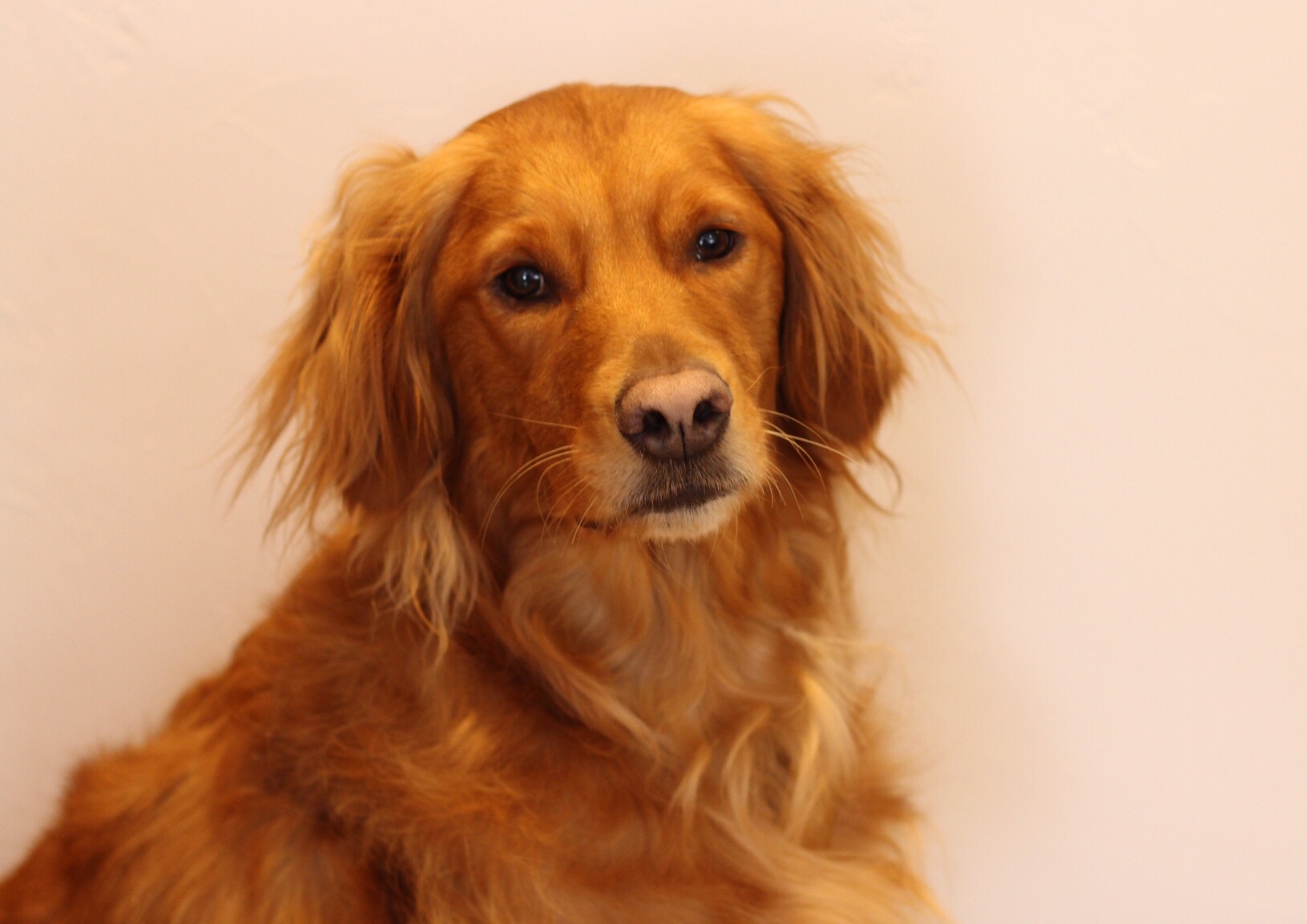 DON'T DO. Artificial Light
Pretty crazy, right? This is a perfect example of why lighting is important in order to accurately capture the essence of your pet. (Granted, yes, it still looks like Butter, but I'd much rather have a painting of the first photo). In the first photo, Butter has a nice golden-burnt sienna color, with cream highlights and pale brown accents. In the second photo, butter is mostly burnt-sienna, her highlights are not cream but more mustard-y, her winter "snow nose" is not as pale and her overall color is generally darker/more yellow.
Let's not forget to discuss the detail differences, also. These photos were taken with the same camera - Canon 70D, with the same lens, and both are completely UNEDITED. The only difference, was I walked a few steps into a hallway, and turned on the lights.
HERE'S HOW TO USE LIGHT TO YOUR ADVANTAGE:
It really helps if your dog knows the "sit" command. What you'll want to do is find a window that is letting a lot of light in. This window should not have direct sunlight (sun beams shining in), but just have a nice brightness illuminating from it. Put your back towards the window, and call your dog to sit a few feet in front of you. This way your dog's adorable face is looking right towards you AND the direction of the window. Doing this will help you to get a nice, soft, well (and evenly) lit photo. You don't need any special camera, tripods, or giant lighting umbrellas! Yay!
Sidenote: If you are outside, try to find shade. The harsh sunlight will create dramatic shadows and BOLD highlights - this is impossible to get a well, evenly lit photo.
HOW TO GET YOUR DOG TO SMILE!
Dogs are naturally very happy little bundles, so of course you want your painting (or photo) to portray that! I know I'm not the only one that sits my dog down to get a photo, and she looks GRUMPY as ever. An easy way to combat the frowns is to get them to pant! Take them in the backyard and toss the tennis ball, take them for a walk that tires them out, anything! Just look at that smile! (She's just panting!)
TIP: HERE'S AN EASY WAY TO GET THEIR EARS TO PERK UP. RIGHT BEFORE YOU CLICK THE BUTTON OR TAP THE SCREEN TO TAKE THE PHOTO, SAY THEIR FAVORITE WORD, OR PHRASE! "DO YOU WANNAAAA…" - "TREAT" - "GO FOR A RIDE?" - GUARANTEED TO PERK THOSE EARS!
(If you're commissioning a painting)
TRADITIONAL VS NON-TRADITIONAL
There are unlimited ways we can create a painting together., but you need to consider "what you're going for". Most people usually go for the traditional style painting…. see below.
What I mean by "traditional style'" is really "portrait style" .. Think if you were living in the early 1500s, and you had hired one of the brilliant Renaissance artists to paint your portrait. It would *most likely* come back with you looking straight forward and cut off somewhere around the ribs. (Think Mona Lisa - Leonardo da Vinci).
HOW TO GO TRADITIONAL:
Once you find the right lighting, it's easy to achieve this look. Just make sure you get down at your dog's level. You need to be directly in front of them so they are looking straight forward, right into the camera.
HOW TO GO NON-TRADITIONAL:
This is fun, but can be tricky when it comes to translating into a painting.
In the painting above, you can see that the angle of the camera was very different from the previous painting. This person stood above their dog when they snapped the photo, which left their dog looking up at them. (How we see our dogs all day!)
Sometimes people send me photos similar to this, but the feet were not captured. In situations like this, I ask for another photo. If I painted the photo without the feet, it would look as though the dog doesn't have a body, like he's just floating there. Obviously "floating, bodiless dogs" is NOT what we are going for. So if you want a funky, non-traditional painting, just be sure you can see those feet!
I hope this helps some of you capture the essence of your beautiful pets! Naturally, I hope this helps you decide to commission a painting, too! Comment below if you're feeling confident in pet photography after reading!